Introducing the New Business Online Banking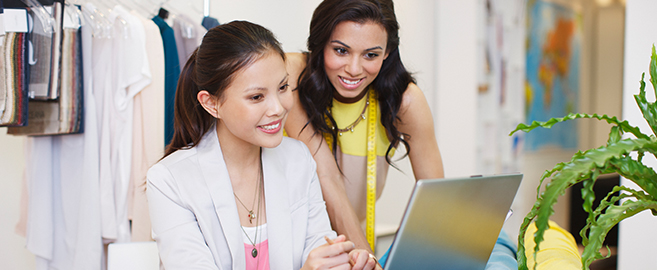 Cash flow is the lifeblood of all business. Our new version of Business Online Banking is designed to make managing your cash, payables, and receivables easier than ever.
More advanced tools to better manage your business.
Yes, it's a fresh, new look. One that translates perfectly from your desktop or laptop to your tablet. Behind that new look, you'll find the same powerful banking software you rely on – with important new features:
Responsive design to enhance your mobile and tablet experience (the web pages will resize to fit your mobile device)
Touch-friendly screens
Intuitive navigation
New Personal Profile to simplify managing your user information
Real-time enrollment for Small Business Bill Pay – pay bills the same day you enroll for the service.
Coming soon…"Soft Tokens" to attain one-time passwords.
First time log on
Use the same credentials as before. If you are currently using a token then follow the same procedures. New tokens are not required.
If you saved the URL in our favorites, the new URL is: https://web1.secureinternetbank.com/EBC_EBC1151/Login/321370707/55
Explore what's new
Learn how Business Online takes digital business banking to a new level. We encourage you to watch the new Business Online Banking video tutorial before Wednesday, September 18, so you'll be fully prepared for the changes.
FAQs
Q: When will the new Business Online Banking be available?
A: Beginning  Wednesday, September 18, you'll automatically access the latest version of Business Online Banking when you log on. There's no software to install.
Q: Will all of my information be available?
A: Yes. All of your information, reports, wire templates, and user settings from the previous version of Business Online Banking are automatically installed and ready to use.
Q. Hey, where did "blank" go?
eStatements are now called Documents and can be found on the Account's page.  In the future, we may offer you more electronic document options.
Stop Payment for Checks  can be found under Checks and Deposits.
Internal Funds Transfers, Wires and Bill Payment can be found under Payments and Transfers.
Internal Funds Transfers are now much easier to schedule.  Just go to Payments and Transfers and schedule your one-time or recurring payment.  Or you can do it in

Pay and Transfer

on the Home Page. Need to make a change?  Go to Issued Transfers and edit or delete your scheduled transfer.
Internal Funds Transfer Templates:  Go to Issued Transfers to view, edit, or delete a scheduled transfer created by a template.
Internal Funds Transfer Templates are only available for customers that already created the template before the system upgrade.
Nicknames and Group Name for Accounts:  If you would like to give your accounts a Nickname or give them a group name – just contact us and we'll do it for you.
If you have questions about the New Business Online Banking, please call Electronic Banking Services at (808) 946-1400.