Business Visa® Check Card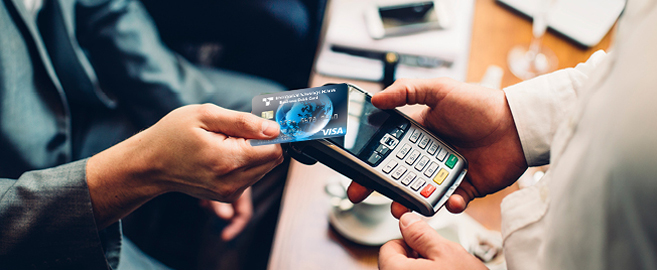 Get More Purchasing Power with a Business Visa® Check Card.
A faster way to pay.  Pay for business expenses without writing a check.
A better way to budget. Pay for supplies, services, and orders right from your business checking account, so you're always on top of your finances.
Conduct business worldwide. Unsurpassed acceptance lets you do so with speed and efficiency at millions of locations worldwide.

Get rewarded for using your card.

 

u

Choose Rewards® – our rewards program gives you practically unlimited ways to redeem all the points you earn using your Territorial Savings Bank Visa® Check Card.

Earn at least 1 point for every $2 in purchases you make with your  TSB Business Visa® Check Card at the merchant or online. Points are not awarded when you enter your PIN (Personal Identification Number) to authorize the transaction or for money transfer transactions (e.g. Venmo, Google Wallet).  Redeemed gifts from uChoose can only be shipped to a U.S. address.
There is NO enrollment or monthly fee. You may earn a maximum of 100,000 points per year. Points can be redeemed as soon as you have earned a minimum of 1,500 points or you can continue to accumulate points for bigger rewards. Rewards can only be mailed to an U.S. address.
To get started, visit www.uchooserewards.com to set up  your user name and password.  Each cardholder on the checking account must register to qualify to earn points.

Buy safely with Visa.  Use your Business Visa® Check Card to buy online, in a store, or anywhere Visa® is accepted, and you're protected from unauthorized use of your card or card information, which means greater peace of mind.
Mobile Payments. Just enroll your Territorial Savings Bank Business Visa® Check Card with Apple Pay™, Google Pay™ or Samsung Pay™.
Chip Card Technology. An embedded microchip on the front of your card provides enhanced security features. The embedded chip in your card generates a unique, one-time code for each transaction. This code makes it difficult for fraudsters to counterfeit your card.
uChoose Rewards® is a registered trademark of Fiserv, Inc.
Apply today at any branch.
Other Important Check Card Information